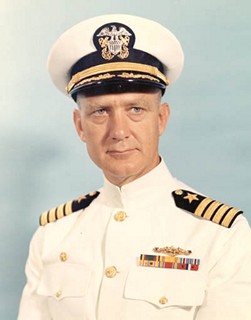 Captain John D. Eaton was our second Commanding Officer from August 1966 to December 1967. He is currently living in Cheshire, CT. He has come to 2002 Biloxi and 2004 Reno reunions. Along with Admiral Barrett, he is a Command Sponsor of the USS Canopus model being built.
Sea Story: One time Captain Eaton came on the 1MC. When the CO does this, the expectation is that something really serious is happening, like we are going to war. This time it was to ask us to go to a basketball tournament that night!
Here are a couple pictures with Captain Eaton directing our med moor in Rota.
The other officer is LT Alfred Clark, who was my Repair Services Division Officer. He had a number of nicknames among the officers and men: "Alfie", "Big Al", and my favorite "Fat Dad".