On 2 April 1987, the USS Mariana G. Vallejo SSBN-658 arrived at Submarine Base Kings Bay. In doing so, it established a major milestone: completion of the 2500th fleet ballistic missile submarine deterrent patrol.

The officers and men of the USS Canopus were there to greet them and help mark the milestone.

Leading the delegation was Captain Thomas J. O'Brien Jr., Commanding Officer of the Canopus from June 1986 to July 1988.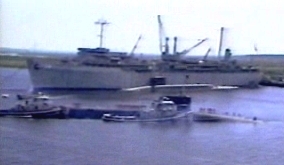 Many thanks to the Defense Visual Information Center
for providing this film footage to the Association.